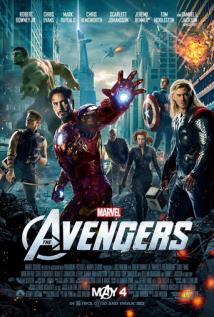 The Avengers
When an unexpected enemy emerges that threatens global safety and security, Nick Fury, Director of the international peacekeeping agency known as S.H.I.E.L.D., finds himself in need of a team to pull the world back from the brink of disaster. Spanning the globe, a daring recruitment effort begins.
Actors

Robert Downey Jr as Tony Stark/Iron Man
Chris Evans as Steve Rogers/Captain America
Chris Hemsworth as Thor
Mark Ruffalo as Bruce Banner / The Hulk
Jeremy Renner as Clint Barton / Hawkeye
Scarlett Johansson as Natasha Romanoff / Black Widow
Tom Hiddleston as Loki
Samuel L. Jackson as Nick Fury
Gwyneth Paltrow as Pepper Potts

Genres

Action
Adventure
Science Fiction
How We Rated This Movie...
Anonymous
Anonymous
Matt
Anonymous
Loved it!
Anonymous
Anonymous
Anonymous
This movie was amazazing! A definite must-see.
Joana
nice
Michael
Awesome all around movie!
Amanda
Great film! For the whole family! Best action scenes, acting and not to mention funny! And the best part is its all clean!
rerouted2remain
I loved it. It is amazeballs! The Avengers ties in several of the other movies as well. Like what happened to Captain America after the end of that movie as well as what happened to Thor after the end of his movie. Picking up where the Hulk movie with Edward Norton ended and so on. It is excellent and it was awesome as always to see Stan Lee appear in the movie.
Anonymous
Winning.
Travis Pipes
Don't miss this movie! Take everyone in your family.
How would you rate this movie?